Browse Items (16 total)
This is a 1993 photo of Harlem CORE member Donald Elfe (left) with CORE founder James Farmer (center) and Prof. Preston Wilcox, sociologist at Columbia University, 'Known as "the father of school decentralization" in New York City, and "the leading…
This is a photo of Harlem CORE member Quincy Boykin.

A Vietnam Vet, he received his B.A. in history from Lehman College/CUNY. He also served as the Vice Chairman of the Manhattan chapter of the New York Black Political Assembly, an outgrowth of…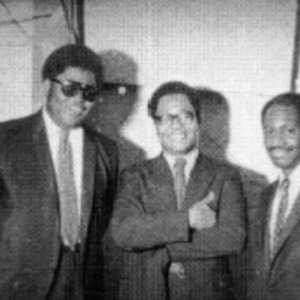 This is a photo of Harlem CORE members Quincy Boykin, 'the big man' (left), Ron Shane (center) with Harlem CORE chairman Jerome Smith, early 1970's. They were all nationalists.
This is a group photo of several New York CORE members taken at an event supporting the demonstration at the 1964 World's Fair. Ronald Stark, one of the editors of the chapter's in-house journal 'Rights and Reviews', is the White male on the right…
This is a 1963 photo of Mary Hamilton in West Feliciana Parish, Louisiana. She is standing next to Rev. Joe Carter, the first Black person to vote in that parish in 61 years because of Jim Crow segregation laws. Whites had retaliated by terrorizing…
This is a list of new New York CORE members one month after the chapter moved to 125th street. It includes Doris Funnye (aka Doris Innis), Lucy Komisar and Mary Hamilton.
CORE traditionally had two classes of membership. These listed had just…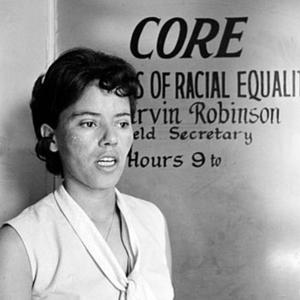 This is a famous photo of Mary Hamilton, CORE Field Secretary, Freedom Rider and CORE's first female Southern Regional Director.
A member of the chapter before they moved uptown, she was one of the original active members of New York CORE. She…
This is a xeroxed photo of a Harlem CORE Black Power banner outside of Harlem CORE headquarters on 135th st. , surrounded by supporters and members of Harlem CORE
This is a photo of New York CORE member Susan Wells and her husband, John, in their Manhattan apartment. Susan was a member of the Executive Committee and served as the executive secretary for Gladys Harrington.
She joined CORE when she was…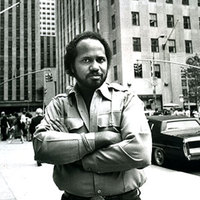 This is a photo of the Harlem born documentary film maker, St. Claire Bourne, who was a member of Harlem CORE in the late 1960's (and perhaps early 1970's?). He organized Black film festivals with Harlem CORE to help raise funds for the group. He…
Proudly powered by Omeka.