Browse Items (113 total)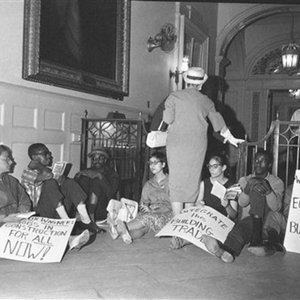 This is a photo of New York CORE's sit-in at City Hall during the summer of 1963. It was part of a larger series of campaigns initiated around the construction industry. At issue was the use of government funds by construction companies that would…
This is a photo of New York CORE's 1963 sit-in at the New York City office of Governor Nelson Rockefeller. In conjunction with the protests at City Hall, they are also participating in a hunger strike.
The original caption lists those in the…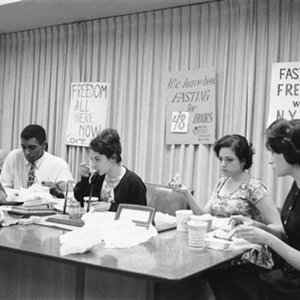 This is a photo of New York CORE's 1963 sit-in at the New York City office of Governor Nelson Rockefeller. Here they have ended their hunger strike.
The original caption lists those in the photo as, left to right: Raymond Gardner, Vicki Morris,…
This is a photo of a CORE member being arrested for their participation in the protest at the office of New York Governor Nelson Rockefeller. The CORE member is unidentified.
This is a photo of Roy Innis as CORE's national director with General Idi Amin, president of Uganda. The photo is from the early 1970's.
In many ways, this photo represents the beginning of the end of Roy Innis as a legitimate CORE leader and…
This is a 1971 photo of Roy Innis with Queen Mother Moore taken at that year's annual convention which was held in Harlem.
Moore, one of the most respected figures of the civil rights and Black Power movements was not only a member of Marcus…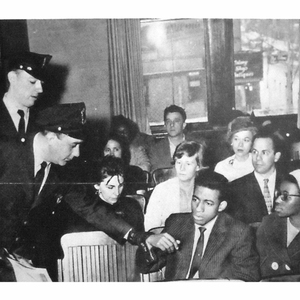 This is a 1962 photo of of New York CORE member Velma Hill (front row corner, glasses) with her husband Norm Hill (front row, suit). At the time, they were being arrested for their participation in a demonstration against the Board of Education in…
This is a photo of New York CORE chairman Clarence Funnye in the very early 1960's. He is pictured with his wife, son and Genevieve Hughes, one of the original Freedom Riders.

The photo is of a housing demonstration in the Clinton Hill section…
This is a photo of New York CORE chairman Marshall England speaking in front of the Teresa Hotel on the corner of 125th street and 7th ave. in Harlem.
I do not know when the photo was taken, but I believe this is from the very late 1960's or the…
This is a clip of Marshall England on 'Like It Is', the public affairs television program hosted by Gil Noble. At this stage of his life, England was the co-director of the Commission on the Public's Health System (CPHS), "a citywide,…
Proudly powered by Omeka.