Browse Items (30 total)
This is the 1961 arrest photo for New York CORE member Abraham Bassford as a Freedom Rider. At the time , he was 24 years old and a college student in Staten Island. As a member of New York CORE, he was one of the earliest members of the chapter when…
This is the arrest photo for New York CORE member Elizabeth Wykoff as a Freedom Rider in Jackson, Mississippi. At the time, she was 45 years old. According to Joanne Shane, Gladys Harrington's Executive Secretary, Wykoff " was very active and was…
This is a photo of New York CORE member James Peck standing next to fellow Freedom Rider Henry Thomas.

James Peck is an original member of CORE. His participation goes as far back as the original Journey of Reconciliation in 1947.

He was a…
This is a photo of two CORE founders, George Houser (standing right in beige jacket, goatee) and James Robinson (standing left, red cap).

Both have much in common in terms of their long and dedicated histories as activists. Both men also served…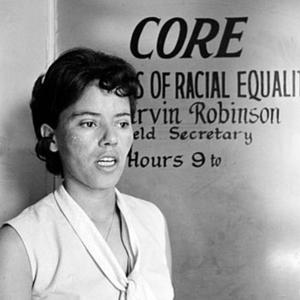 This is a famous photo of Mary Hamilton, CORE Field Secretary, Freedom Rider and CORE's first female Southern Regional Director.
A member of the chapter before they moved uptown, she was one of the original active members of New York CORE. She…
This is a photo of New York CORE demonstrating at a Woolworth's on 125th street in 1960. This was one of the many demonstrations that were part of the larger nation wide protest CORE initiated in support of the student sit-in of the Woolworth's…
This is a photo of Sheila Michaels, one of the earliest members of New York CORE once the chapter (known as New York CORE) moved up to 125th street. Like Susan Brownmiller and Susan Wells (among others) she was involved in some of the early housing…
This is a photo of a young Sheila Michaels. She refers to the chapter in Harlem as New York CORE.

This is a photo of Dr. Evelyn Rich, PhD (more commonly known as Evie Rich) and her husband Marv Rich. Mrs. Rich was an early member of New York CORE from the mid-1950's and stayed with the chapter briefly after it moved to Harlem. Marv was…
This is a photo of former New York CORE chairmen James Robinson(White man, glasses and picket sign) and Darwin Bolden (Black man, pork pie hat). Harlem CORE was originally referred to as New York CORE when the chapter was located on 42nd.…
Proudly powered by Omeka.