Browse Items (17 total)
A photo of the CORE magazine cover from 1970. This was their national newsletter/magazine after Innis took power. James Farmer, Floyd McKissick and Innis, the Black national chairmen of CORE are shown here on red, black and green background, the…
This pdf. document contains xeroxed copies of the table of contents page from each of the Rights and Reviews magazines (5 total). These pages demonstrate how Harlem CORE officials also worked as national CORE officials (or vice versa), sometimes…
This chart explains CORE's plan to create a Black Board of Education, an evolution of Harlem CORE's 1967 attempt to create an independent Board of Education for Harlem), as presented to and accepted by the 1972 National Black Political Convention.
This is a photo of Harlem CORE member Wendell Rachell (approx. 1966-71) sitting in his bedroom, Lower East Side (NYC), in the early 1970's.
After leaving Harlem CORE, he became an activist on the Lower East Side. He and another Harlem CORE member…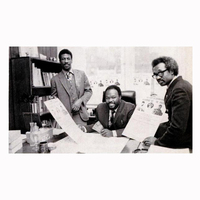 This is a photo of former Harlem Core leaders Innis (center) and Solomon (left) after they had become national director and associate national director. Waverly Yates (right, sitting on desk) here is the western regional director for CORE. He would…
This is a pamphlet given out at the 1967 National Conference on Black Power, a historic gathering of leaders in the Black Power movement. It contains National CORE Director Floyd Mckissick's speech to the gathering. It marks a strong shift to Black…
This is a photo of both Roy Innis (in the dashiki) and his successor/ protege as chairman of Harlem CORE (1968-1969), Victor Solomon (in the suit). Solomon went on to become the national associate director for CORE but eventually left over…
Proudly powered by Omeka.