Browse Items (32 total)
This is a photo of New York CORE member Eva Kerr (looking up) and Mayor Wagner (in hat) at the 1963 City Hall protests. She led the group of protesters who sat in at City Hall overnight.
In the photo, she is sitting next to another New York CORE…
This is a photo of Velma Hill, New York CORE member, leader in the City Hall protests of 1963 and the city wide school boycotts of 1964. She is married to Norman Hill National CORE leader.

According to David Evanier, "Velma Hill earned her M.E.D.…
This is a photo of protest posters, signs for Harlem CORE 1966 march in support of James Meredith's March Against Fear.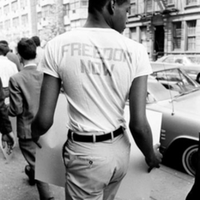 This is a photo of a Harlem CORE member at a demonstration, 1966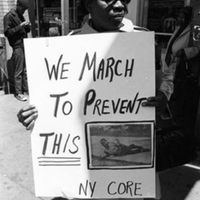 This is a photo of a Harlem CORE member on the picket line 1966. It is refereeing to the attempted assassination of James Meredith during his March Against Fear in June 1966. The response by CORE and SNCC specifically is noted by many historians as…
This is a photo of former New York CORE chairmen James Robinson(White man, glasses and picket sign) and Darwin Bolden (Black man, pork pie hat). Harlem CORE was originally referred to as New York CORE when the chapter was located on 42nd.…
This is a photo of Gladys Harrington and James Peck under the Statue of Liberty, taken during New York CORE's 'Fast For Freedom' protests in support of the southern Freedom Riders movement. This photo speaks to Gladys Harrington, the national CORE…
This is a photo of Gladys Harrington, New York CORE's first chairman (1961-1963) and the Northeast Regional Representative for CORE at this time.
She was chairman when the chapter was still in midtown Manhattan and remained chairman of New York…
This is a copy of the national news letter. I picked this edition because it contains a story of the school boycotts that Harlem CORE helped organize in 1964.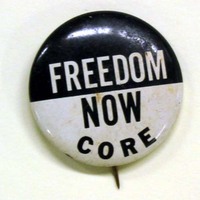 This is a pin/button that served as propaganda, public relations material for CORE's voter registration, de-segregation efforts down south.
Proudly powered by Omeka.