Browse Items (3 total)
This is a photo of protest posters, signs for Harlem CORE 1966 march in support of James Meredith's March Against Fear.
This is a photo of a woman at Harlem CORE march, 1966. The sign is of the traditional black and white CORE logo, pre Black Power.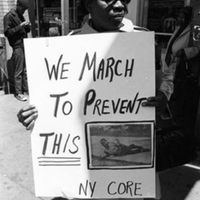 This is a photo of a Harlem CORE member on the picket line 1966. It is refereeing to the attempted assassination of James Meredith during his March Against Fear in June 1966. The response by CORE and SNCC specifically is noted by many historians as…
Proudly powered by Omeka.